Update

2017.0920

:

This article was originally posted in

2011

as "

22

albums by Sparks"; this update not only adds the three latest albums, but revisits my comments on the first twenty‐two.  (My opinions haven't changed much but there are a few tweaks here and there.)  Also, the original version of the page was full of Youtube embeds, but Youtube has changed formats a couple of times since then and made all the formerly pretty embeds look bad.  The load time for the page became pretty hellacious as well.  So I have replaced those embeds with links, as follows:
Video link
Video link with negligible video content (photos of album covers, etc.)
Spotify link
Finally, I have added my "album score" for each record, as if my usual 0‐to‐24 scale weren't confusing enough.  I won't bore you with the details of the album score, but anything above zero means that the album is better than silence, and the signposts are something like this:
PRO


50

+

pro


49

to

16

mixed


15

to -

15

con
-

16

to -

49

?

CON
below -

49

?
The highest album score I've ever given was 101.  (See my chart page for more.)
So before we get to the updated album reviews, here is the non‐updated introduction from back in 2011.
About a year ago I was watching the video for Paul McCartney's 1980 song "Coming Up", in which Paul uses the magic of primitive greenscreen to simultaneously play the roles of ten members of a band called "the Plastic Macs" (while Linda McCartney plays two others).  One of Paul's ersatz band members is a guy with slicked‐back hair and a little mustache who slaps robotically at the keyboard while glancing around in sinister fashion.  Here's a screenshot: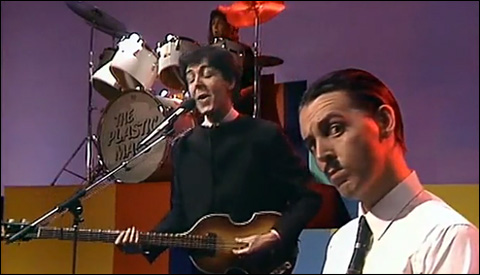 I poked around online to find some kind of key, and learned that while most of the characters in the video were meant to represent archetypes rather than individual people, this guy was an exception: he was meant to be someone named Ron Mael from a band called Sparks.  Some late‐'70s Kraftwerk knock‐off, I gathered.  I didn't investigate further.
Then, earlier this summer, I was doing a Sporcle quiz about songs that hit the top of the Billboard chart in the '80s.  One of 1981's #1s, I knew, was a medley called "Stars on 45"

"Stars on

45

" (excerpt)
by a Dutch band of the same name—​but after I finished the quiz, and got that answer correct, it occurred to me that I'd never actually heard the record.  So I pulled it up on Youtube, and while it played I read up on it.  It turns out that, due to legal requirements, every song in the medley had to appear in the title, and therefore that title wound up being by far the longest ever to hit #
1
: "Medley: Intro 'Venus' / Sugar Sugar / No Reply / I'll Be Back / Drive My Car / Do You Want to Know a Secret / We Can Work It Out / I Should Have Known Better / Nowhere Man / You're Going to Lose That Girl / Stars on
45
" (whew!).  But, I then read, the Stars on
45
gang failed to credit one of the songs they briefly threw into the mix: "Beat the Clock"


"Beat the Clock" (edit)
by Sparks.  Hmm, Sparks again!  I went to the Stars on
45
web site and discovered that, interestingly enough, the little "you gotta beat the clock, you gotta beat the clock" part had been excised from the clip that autoplayed — suggesting that there'd been some wrangling over the rights.  This was now the second time I had encountered a reference to this Sparks band, so I thought I'd check out this "Beat the Clock".  I dug it enough that my next stop was the Sparks page on Wikipedia.
There I learned that this wasn't a "late '70s band", but one that had been continuously active from 1968 to the present.  I listened to some of the clips and started to realize that I'd made a much bigger discovery than I'd anticipated.  Every song was in a different genre!  The thing that had always wowed me about the Beatles, even more than the individual songs, was the way that they'd evolved over time—​that the band that had kicked off its career with "Love Me Do" had gone on to do "Yesterday" and "Strawberry Fields Forever" and "Revolution 9".  Now here was a band that had started releasing albums the year after the Beatles split up, and had gone on to track, and often to pioneer, the evolution of popular music over the subsequent forty years—​and counting!—​and yet, from the time I started getting into music at age nine until I ran across that Paul McCartney video at age 36, I'd never heard of these guys.  I was dumbfounded.  Then I read that, back in 2008, Sparks had premiered their 21st album by playing 21 shows in 21 nights, each night playing a different one of their albums, in sequence, from start to finish.  And given that I'm the sort of person who can't even watch a movie unless it's part of some grand project, I found myself taken with the idea of doing something similar from the listening end: getting acquainted with each album sequentially, listening to it over and over for a couple of days and then moving onto the next, and thereby compressing four decades of Sparks fandom into six weeks. So that's what I did.

Sparks are a band from Los Angeles that paved the way for a diverse array of better‐known acts ranging from Queen (operatic vocals and song structures) to the Cars (songs based around angular synth lines) to Depeche Mode (took Sparks album #8 as their bible) to They Might Be Giants (goofy song premises that appeal to nerds) to Green Day (California band pretending to be British).  The band was formed in the late '60s, under the name Halfnelson, by a bunch of UCLA students: songwriter Ron Mael on keyboards, his brother Russell on vocals, their friend Earle Mankey on guitar, and, par for the course for bands starting out, a couple of different dudes on drums.  Earle Mankey brought his brother James in to play bass, and having attracted the attention of producer Todd Rundgren with a demo tape, they soon recorded their first album:
"Roger" (excerpt)

"Fa La Fa Lee" (excerpt)

"Slowboat" (excerpt)

"Biology

2

" (excerpt)

"(No More) Mr. Nice Guys"

"Fletcher Honorama"

Halfnelson,

1971

(later re‐released as Sparks)
genre: experimental power pop

I knew before I started this project that Kimono My House was generally considered Sparks' breakthrough album, so I wasn't expecting much from this one.  In my experience, when a band comes to my attention with its second or third record and I get all excited about checking out its first effort, it turns out that there was a very good reason that the band hadn't come to my attention until its second or third record.  But while Halfnelson does have the thin sound that tends to mark debut albums, it's an impressive calling card and a top‐half Sparks album in its own right.

I've listed this as "experimental power pop", and that means two things.  First, some of the songs push the envelope all by themselves—​listen to the clip from "Roger", for instance, which reminded me of something Cardiacs might have done.  But it also foreshadows Sparks' career by genre‐hopping from song to song, from the proto‐New Wave of "Fa La Fa Lee" to the conventional "Slowboat" (which could easily be a Neil Diamond song) to the very strange "Biology 2" (presaging such Nirvana songs as "Curmudgeon" and "Oh, the Guilt", built around a short, sludgy riff) to the rockin' "Mr. Nice Guys".  Then there's the big standout on the album, a slice of concentrated gorgeousness called "Fletcher Honorama" that sounds to me like the greatest song George Harrison never wrote.

Album score: 13
Rank among Sparks albums: # 10
"Girl from Germany"

"Here Comes Bob" (excerpt)

"Moon Over Kentucky"

A Woofer in Tweeter's Clothing,

1972


genre: experimental power pop

A rare case of a Sparks album resembling its predecessor, A Woofer in Tweeter's Clothing differs from Halfnelson primarily in its unevenness: while Halfnelson is a solid album all the way through, Woofer has some gems but also a few clunkers (among them a cover of "Do‐Re‐Mi" from The Sound of Music).  We also see here the flowering of Ron Mael's penchant for offbeat song premises.  "Girl from Germany", for instance, is about a guy whose Teutonic ladyfriend inadvertently gives his parents WWII flashbacks, while "Here Comes Bob" is about a lonely fellow who deliberately causes car accidents as a way to strike up conversations—​and is an odd composition to boot, heavy on strings and sung in a pinched accent.  I've read that foremost among Sparks' influences when they were starting out were the Who, and while I can see the influence, it's not "My Generation" or "I Can See for Miles" that spring to mind, but the period when, in Pete Townshend's words, "the Who went slightly mad" and put out a record that I consider in many ways the ultimate Who song, "Dogs":

"Dogs"

But another similarity between Woofer and its predecessor is that the best song is the one in which the band dials down the wackiness and goes for something haunting, so the third song on the left there is the atmospheric "Moon Over Kentucky"".

Album score: 11
Rank among Sparks albums: # 13
"This Town Ain't Big Enough for Both of Us"

"Here in Heaven"

"Hasta Mañana, Monsieur" (excerpt)

"Thank God It's Not Christmas"

"Equator" (excerpt)

Kimono My House,

1974


genre: glam rock

Sparks had played to far larger audiences on its U.K. tour than it ever had back home in L.A., so in 1973 Island Records offered the Maels a deal to relocate to England… but just the Maels.  After much thought, they accepted, leaving behind their guitarist, bassist, and drummer—​i.e., what in most circles would be considered "an entire band"—​and recruited new ones on the other side of the pond.  This served notice as to where the band's musical priorities lay: yes, they might rock out on occasion, but henceforth the songs would be built around Russell's vocals and Ron's lyrics, melodies, and keyboard lines.  Their shows would also play off the contrast between Russell, with his flowing mane and gaudy outfits, hyperactively bouncing around the stage, and Ron, with his necktie, slicked‐back hair, and toothbrush mustache, staring around unnervingly while remaining anchored to the spot.

For their first British release, Sparks set the genre‐hopping aside and put out a record that was lush glam rock from start to finish.  The reaction in the U.K. was very positive, as the album went to #4 and singles "This Town Ain't Big Enough for Both of Us" hit #2 and "Amateur Hour" made it to #7.  In the U.S., Sparks remained almost entirely unknown and the album failed to crack the top 100 (peaking at, yes, #101); even the signature "This Town" went nowhere.

Kimono My House did become one of those records whose influence outstrips their initial popularity, an example of the old saw that only a few people bought it but everyone who did started a band.  Kurt Cobain, for instance, cited it as one of his favorite albums of all time, and one lesson he clearly learned was that you don't need intelligible lyrics to score a huge hit.  Russell Mael transformed the lengthy lyrics to "This Town Ain't Big Enough for Both of Us" into a fusillade of syllables that no one could follow without a cheat sheet, much as MTV eventually started playing the "Smells Like Teen Spirit" video with subtitles.  Now, this is fine by me—​I generally don't care about lyrics, so long as they don't actually make me cringe for one reason or another.  But what's interesting is that the lyrics to these songs aren't at all generic—​the amusing scenarios they present are clearly meant to be a big part of the value listeners get out of the songs.  Check out some of these premises:

"Here in Heaven": a lament from a boy whose girlfriend didn't follow through on their suicide pact.  "It is hell / Knowing that your health / Will keep you out of here / For many many years"

"Hasta Mañana, Monsieur": Sparks' take on the Beatles' "Michelle", as the language barrier gets in the way of the singer's attempt to court a foreign lass.  "I tried to tell you in the night / That with a girl like you I could do without guided tours / You tried to tell me in the day / That your leading exports were textiles and iron ore"

"Amateur Hour": Here it's not the premise so much as the execution that merits applause.  There've been lots of songs about adolescence and sexual inexperience, but how many have summed up puberty with immortal lines like "Girls grow tops to go topless in"?

"Thank God It's Not Christmas": the holiday season is here, and our singer is very glad Christmas itself hasn't yet arrived because it's the one day he has to spend with his wife.

"Equator": yes, this actually is about a guy freaking out because he has gone to the equator to rendezvous with his crush, only to realize that she never did give him a longitude.

It's a delightful assortment, but would have been entirely lost on me without the services of lyricsvip.com.  Take "Equator", for instance: by the time he gets to "Surely we said it was 3 p.m. / Surely we said it was March the 10th," Russell has reached a vocal range that only bats can hear.  Which isn't a criticism—​it's actually kind of awesome when he hits those notes.  But if we're supposed to catch the words without already knowing what they are… not so much.

In any case, though the brilliance does peter out a bit toward the end, this is a great record and until recently was the album to pick up if you were only going to get one (a conundrum that was much more common back in the CD era, I guess).

Album score: 28
Rank among Sparks albums: # 3
"Don't Leave Me Alone with Her"

"Never Turn Your Back on Mother Earth"

"B.C." (excerpt)

Propaganda,

1974


genre: experimental glam rock

Amazingly, Sparks weren't even done with 1974, as they put out yet another album before the year was up.  As with Woofer, Propaganda is uneven compared to its predecessor, and is sort of a transitional album leading from the glam rock of Kimono to the very weird Indiscreet that would follow in '75.  You've got songs like "Reinforcements" (generally good, but occasionally veering a bit too close to "I'm a lumberjack and I'm okay") and "Achoo" (yes, a song built around sneezing).  Still, Propaganda has some great songs on it, including what are probably the two best Sparks songs of the '70s, the raucous "Don't Leave Me Alone with Her" and the gentle "Never Turn Your Back on Mother Earth".  Even the weaker songs tend to have redeeming facets, such as the lovely little keyboard part in "B.C."

Album score: 23
Rank among Sparks albums: # 5
"Pineapple"

"In the Future" (excerpt)

"Looks, Looks, Looks" (excerpt)

"Get in the Swing" (excerpt)

Indiscreet,

1975


genre: eclectic

I don't think I can do a better job explaining how strange this album is than simply by having you listen to "Pineapple" over on the left there.  Unfortunately, that's actually the best song on the album, which overall is a bit of a misfire.  There are some okay songs, like "Happy Hunting Ground" (the most conventional song on the record, about a guy who, in the immortal words of John Allison, "can't deal with a world where girls aren't 19") and the herky‐jerky "In the Future".  But a lot of these songs are early‐20th‐century pastiches; "Looks, Looks, Looks" and "Get in the Swing" aren't terrible, but some tracks don't work out even that well.

That being the case, I guess it's kind of lucky that none of the Sparks albums from 1975 to 1979 bear the slightest resemblance to one another…

Album score: 1
Rank among Sparks albums: # 20
"Nothing to Do"

Big Beat,

1976


genre: arena rock

Between Indiscreet and Big Beat, the Maels decided that glam rock had run its course and returned to the U.S., once again recruiting an all new backing band.  They then proceeded to upset their British fans by completely changing their sound.  It was 1976, KISS was all the rage, the Ramones had attracted a fair amount of buzz in New York, and Sparks accordingly whipped up an album's worth of big dumb rock.  Gone was Russell's trademark falsetto.  Gone were the eccentric lyrics, replaced by parodic versions of big dumb rock lyrics, e.g., "You fell for me, I fell for you / You think I'm great, I think you're good / And that's enough to prove the point once more / Everybody's stupid, that's for sure" (followed by endless repetitions of "Everybody's stupid, that's for sure / Oh yeah!").  And gone, sadly, were most of the hooks.  See, by all rights this ought to be one of my favorite Sparks records.  As big a Sparks fan as I have become, my real favorite bands are outfits like Die Mannequin and Jack Off Jill that can blow your speakers out.  There is one awesome song on Big Beat, "Nothing to Do"—​so Ramonesy that Joey Ramone tried to convince the others to cover it—​but its awesomeness lies in elements that aren't Sparks" traditional strengths: above all else, it's the four long, jaw‐dropping drum fills that lead into the choruses, with second place going to the bass part.  If you could take the genius of "Nothing to Do"'s rhythm section and marry it to the hooks of the Kimono songs, you would have nothing short of godhead… but instead the rawwk mostly goes to waste on songs that are, sadly, quite dull.

Album score: 1
Rank among Sparks albums: # 19
"Ladies" (excerpt)

"Occupation"

"Goofing Off"

Introducing Sparks,

1977


genre: Beach Boys

With the arena rock sound having turned out to be a flop, Sparks switched directions yet again and came back with a shimmery bubblegum record in which the Mael brothers pay unmistakable homage to their fellow Southern Californians, the Wilson brothers.  The pastiche goes right down to the accent Russell uses: after years of pretending to be British, listen to how hard he hits those r's on the chorus of "Ladies".  Of course, this wouldn't be Sparks if they didn't subvert things in some way, so a song like "Over the Summer" is about how summer is awesome not because of the surfing but because the girl the singer has a crush on grew breasts during it.

The six Beach Boys homages/parodies (including a standout track called "Occupation", a guilty pleasure if ever there was one) bracket three interesting songs that show off Sparks' diversity: the stark rocker "I'm Not"; a song called "Forever Young" that skewers every other song that's expressed that sentiment ("I just refuse to be what I'm not this instant"); and "Goofing Off", which takes banal lyrics about how great weekends are and marries them to a frickin' Cossack dance, throwing in some of the best guitar work ever to appear on a Sparks record.

Album score: 9
Rank among Sparks albums: # 15
"Academy Award Performance"

"My Other Voice"

No.

1

in Heaven,

1979


genre: electronic disco

Yes, it was quite a shock for fans of the glam‐rock Sparks to pick up Big Beat.  And those who got into Sparks by hearing tracks from Big Beat in the movie Rollercoaster were nonplussed by the shift to close harmonies.  But nothing in Sparks' career can match the whiplash between the end of their seventh record and the beginning of their eighth:

"Those Mysteries" (excerpt)

"Tryouts for the Human Race"

In between those two records, Sparks had decamped to Germany to team up with producer Giorgio Moroder, who had pioneered what would become the sound of the '80s and who would go on to write or co‐write such hits as Blondie's "Call Me", Irene Cara's "Flashdance", and Berlin's "Take My Breath Away".  This time the Maels didn't need to find a new guitarist when they switched continents, because there were no guitars: the instrumentation on the new album would consist entirely of synthesizers and drums.  With an average song length of over five and a half minutes, they could only squeeze six songs onto the entire album—​six songs with Russell's falsetto back again and swooping through a lush sonic landscape.

As far as the British public was concerned, this was Sparks' big comeback album, and it spawned three successful singles—​all radio edits, as nearly all Sparks singles would be from this point on.  This is one of the areas where Sparks and I are at odds: I think that in general the optimal length for a pop song is two minutes flat, and while there are songs that need to clock in at six, Sparks' songs don't usually qualify.  They're way too long.  Thus it stands to reason that, while I think all six songs on this record are quite good, I like the shorter ones the most: I already talked about "Beat the Clock" in the introduction to this article, but just as good are "Academy Award Performance" and "My Other Voice", which presages Björk's Homogenic by eighteen years.

(And, yes, "Tryouts for the Human Race" is about sperm.)

Album score: 27
Rank among Sparks albums: # 4
"When I'm With You" (the video is an edit)

"The Greatest Show on Earth"

"Stereo" (excerpt)

Terminal Jive,

1980


genre: early '

80

s adult contemporary

And now we've reached the album with far and away Sparks' biggest hit, "When I'm With You", which was #1 for six weeks… in France.  It was their only hit in France, placing Sparks among the biggest one‐hit wonders in French history: « Toute ma jeunesse ! » sigh the fifty‐year‐old French commenters on Youtube.  It also did virtually nothing else anywhere.  It's definitely one of Sparks' less challenging tracks, a tune that one can easily imagine playing in a dentist's office, livened up by a catchy synth line that snakes through the whole song.

The same holds true of the album in general, or at least the second half (the rest of the first half is eminently skippable).  The songs are very much middle‐of‐the‐road affairs, but goosed by a bit of synth and made reasonably catchy.  You've got "The Greatest Show on Earth", probably the best song on the record; "Young Girls", an ode to chasing jailbait ("Young girls / Haven't seen the whole night / And they will hold you / Though it might not be tight"); "Noisy Boys", paving the way for Wham!; and "Stereo", suggesting the three New Wave albums to come.

Album score: 12
Rank among Sparks albums: # 12
"Tips for Teens"

"Where's My Girl"

"That's Not Nastassia"

"Wacky Women" (excerpt)

Whomp That Sucker,

1981


genre: experimental New Wave

Whomp That Sucker is the closest Sparks would come to their experimental power pop period for a while.  It's one of Sparks' three New Wave albums, but each of those records is a little different.  This one, probably the best, is more rock‐inflected than the two to come, and has two other distinct characteristics: one, a deliberately shrill chorus of backup vocals (check out "Tips for Teens" and "Where's My Girl"), and two, songs with a diverse set of weird hooks reminiscent of Halfnelson a million ten years before.  (I could list every track, but try on "That's Not Nastassia" and "Wacky Women" on for size).

This was the first Sparks record to sell better in the U.S. than anywhere else, and there's a reason for that.  In 1981, there was a radio station in Los Angeles that was looking for bands, especially L.A. bands, that played a distinctly '80s style of music and that hadn't yet made the big time, so the listeners could feel like they were tuned in to something underground, alternative, cutting‐edge… even as they and everyone else on their block plastered their cars' bumpers with these stickers:

KROQ put Whomp That Sucker into its rotation, and while that wasn't enough to break Sparks outside of L.A. in 1981, it did bring them to the attention of radio and TV people who kept their eyes peeled for their next release…

Album score: 15
Rank among Sparks albums: # 8
"I Predict"
(directed by David Lynch)

"Nicotina"

"Eaten by the Monster of Love" (excerpt)

Angst in My Pants,

1982


genre: New Wave

Nearly a decade after making it big in the U.K., Sparks finally made a splash in the U.S.—​enough of a splash to end up on Saturday Night Live, at least:

"Mickey Mouse" (live)

The big single off Angst in My Pants was "I Predict", which was basically a novelty song, mocking the tabloids: "Lassie will prove that Elvis and her had a fleeting affair" and suchlike.  (Weird Al Yankovic did the same sort of thing a couple of years later with "Midnight Star".)  In fact, the whole album is basically a string of joke songs about silly stuff, from the title track (about unwanted erections) to "Nicotina" (the best song musically, despite being about a sentient cigarette) to "Moustache" (in which Ron goes on the record about his toothbrush mustache, which he would soon ditch at long last).  But set aside the goofy lyrical content and you've got a satisfying slice of pure New Wave, if that's what you're in the mood for.  The album does close with an uncharacteristic song called "Eaten by the Monster of Love" that also appeared on the Valley Girl soundtrack, and apparently that is therefore the one Sparks song a lot of people know.  And we're not even close to the end of the list of "the one Sparks song a lot of people know"!

Album score: 13
Rank among Sparks albums: # 11
"Cool Places"

"Popularity"

"All You Ever Think About Is Sex"
(the video is an edit)

In Outer Space,

1983


genre: New Wave dance

Sparks' popularity peaked in the U.S. with this one, which reached (ulp) #88 and whose big single, "Cool Places", went all the way to #49—​thanks in large part to guest vocals by Russell Mael's girlfriend at the time, Jane Wiedlin of the Go‐Go's.  (They had joined forces, Russell told Dick Clark on American Bandstand, out of "mutual admiration for each other's respective groups, and then… mutual admiration for each other's… bodies".)  The rest of the album revolves around the same theme, relating satirical tales of characters in search of coolness, popularity, and hedonism—​obsessions of the '80s to go with the sounds of the '80s.  ("Prayin' for a Party" has a big dumb guitar riff that sounds like a parody of Joan Jett, and "All You Ever Think About Is Sex" is Sparks in Depeche Mode, uh, mode.)

This is still a New Wave album, but as noted, it's a different species of New Wave from the others.  While Angst in My Pants featured a staccato boom‐clack‐book‐clack beat, stark production, and synth and guitar lines that were alternately searing and jerky, sometimes with synth washes in the background, In Outer Space substitutes busy sequenced patterns.  Listen to the "dee dee doo doo dee dee doo" that runs through "Popularity", for example… and get used to it, because Sparks wouldn't drop it for nearly twenty years.

Album score: 7
Rank among Sparks albums: # 17
"Pulling Rabbits Out of a Hat"

"With All My Might"

"Progress" (excerpt)

Pulling Rabbits Out of a Hat,

1984


genre: mid‐'

80

s synthpop

The first time I listened to Pulling Rabbits Out of a Hat, Elizabeth happened to be in the next room, and I had to ask: "Is it just me, or did that kind of suck?"  The first song, which was the title track, I liked a lot—​between this and "Nicotina", it seems clear that I tend to go for each record's most bombastic offering.  But as for the rest of the album… if you tuned to some backwater cable channel that was showing some forgotten '80s movie, this utterly generic synthpop is what you'd hear on the soundtrack.

My opinion is no longer so negative—​after the songs had a chance to grow on me, they no longer sounded quite so generic.  I would go so far as to call some of them pretty good '80s synthpop.  "With All My Might", the first single, would have been a fine addition to my sixth‐grade graduation party, and "Progress" sounds a bit like an off‐brand version of Prince's "I Would Die 4 U", which I liked at the time.  I later had to ask Lizzie, "Is it just me, or was that kind of good?"

Album score: 11
Rank among Sparks albums: # 14
"Music That You Can Dance To" (excerpt)

"Modesty Plays" (

1986

version)

"Shopping Mall of Love" (excerpt)

Music That You Can Dance To,

1986


genre: club

As mentioned, there are quite a few songs in Sparks' catalogue that a lot of people cite as the one Sparks song they know, so let's throw one more onto the heap.  "Music That You Can Dance To", the title track from this album, went higher than another other Sparks song went on a U.S. chart… #6, on the club play chart.  Sigh.  Sparks do love to genre‐hop, and it was only a matter of time before they landed in a genre I dislike.  So far they've managed to largely avoid rap and country, at least.

This album isn't completely without merit.  I like "Modesty Plays", a bombastic reworking of their 1982 theme song for a Modesty Blaise TV show that never got produced.  And "Shopping Mall of Love", piling samples on top of each other to make a dissonant, minimalist sonic collage, hints at the turn Sparks would make in the 21st century—​but we're still at 1986, so that's a fair way off…

Album score: -9
Rank among Sparks albums: # 21
"So Important"

"Love‐O‐Rama" (excerpt)

"A Walk Down Memory Lane" (excerpt)

"Stop Me If You've Heard This Before" (excerpt)

Interior Design,

1988


genre: late '

80

s synthpop

Same story as Rabbits, only moreso.  At least Rabbits was an artifact of 1984, about whose music I was occasionally nostalgic; Interior Design was from 1988, whose music made me listen to Led Zeppelin instead.  The first few times I listened to this I was sure that I could mark it in as the worst Sparks album.  And yet, again like Rabbits, it wound up growing on me somehow!  Someone on Youtube posted an "animated history of Sparks" video with a sample song from each album—​except for this one, as apparently the author hated it enough to swap in a song Sparks had donated to a French band called Les Rita Mitsouko.  Me, I found plenty of tracks that seemed worth at least an excerpt, as the links on the left there show.

Album score: 5
Rank among Sparks albums: # 18
"Let's Go Surfing"

"When Do I Get to Sing 'My Way'"
(the video is an edit)

"I Hear Charlie Parker Playing"
(the video is an edit)

Gratuitous Sax & Senseless Violins,

1994


genre: Eurodance

After releasing fifteen albums in less than eighteen years, Sparks took their first extended break from that particular grind, working instead on a musical adaptation of a Japanese comic called Mai the Psychic Girl.  (This came to nothing, though it did turn Sparks into a trio for a few years, as Star Trek actress Christi Haydon, who would have played Mai, joined the band on electronic drums.  She was a big player in their videos during this period—​check 'em out!)  Sparks were out of action from 1989 to 1993, which just so happens to coincide with the period that Nirvana was putting out records.  Too bad—​I would have liked to have heard the Sparks grunge album.  Instead, when Sparks did return, it was with a '90s update of the club music they turned out in Music That You Can Dance To, with a rapid beat added that was presaged in Outer Space.  This was a sound that was out of fashion in the U.S., but big in Europe—​specifically, big in Germany, where Sparks wound up #1 in airplay for all of 1994 with "When Do I Get to Sing 'My Way'".  The follow‐up was "I Hear Charlie Parker Playing", and, man, listening to it you can just see the Roxbury guys nodding their heads in unison.  This is just not a sound I'm into.  And yet!  At the end of this record is the best Sparks song ever, "Let's Go Surfing", and it doesn't actually sound all that different from the rest of the album.  Music—​who can figger it?

Gratuitous Sax was also billed as Sparks' comeback in the U.K., where interviewers blithely asked the Maels what they'd been up to since—​no, not since Interior Design.  Since "Beat the Clock".  Their usual answer was "getting heard of in the U.S."  (I guess that sounds more impressive than "becoming one‐hit wonders in France".) 

Album score: 8
Rank among Sparks albums: # 16
"Pulling Rabbits Out of a Hat"
(

1997

, excerpt)

Plagiarism,

1997


genre: remixes

By 1997 Sparks had been putting out music for over a quarter of a century.  They had American fans unfamiliar with their '70s work, British fans unfamiliar with their '80s work, and German fans unfamiliar with both.  The obvious solution would be a best‐of album, but the Maels decided to tweak the concept a bit.  Instead of simply compiling their greatest hits, they remade them, sometimes bringing in bands they'd influenced (Faith No More, Erasure) as collaborators.

I'm not going to rank this album—​it's too weird a case.  In a sense, it could be #1, because it's got a lot of Sparks' best songs all in one place… but it could just as easily be at the bottom, because in every case, I'd rather listen to the original song than the remake.  So since I've got the originals, why bother with this album at all?  As a representative clip I'll put up a chunk of the orchestral remake of "Rabbits", just because it'll be important later.

Rank among Sparks albums: N/A
"Balls"

Balls,

2000


genre: dark Eurodance

If Introducing Sparks is Sparks doing the Beach Boys, then Balls is Sparks doing The Prodigy.  It's the same repetitive dance music as on Gratuitous Sax, but with some fried‐sounding guitar samples added to the mix.  The title track isn't bad, but otherwise this one lands squarely at the bottom of the heap.

Album score: -11
Rank among Sparks albums: # 22
"My Baby's Taking Me Home"
(the video is an edit)

"Ugly Guys with Beautiful Girls"

"Suburban Homeboy"

Lil' Beethoven,

2002


genre: minimalist chamber pop

Sparks' big swerve away from techno wasn't quite as sharp a break as the one between Introducing Sparks and No. 1 in Heaven.  Minimalism had been part of their repertoire as far back as "Shopping Mall of Love".  Classical orchestration had shown up on Plagiarism.  Still, it seems unlikely that anyone anticipated that Sparks' next move after Balls would be to pack up the electronica that had dominated their music since 1979 and break out the pianos and violins.  Seriously, imagine that you've been a fan of Sparks since hearing them at your favorite Berlin discotheque eight years ago, or watching them on MTV in your family room in Pacific Palisades nineteen years ago, or catching their show in London twenty‐eight years ago, and you put on their new record, and the first thing you hear is this:

"The Rhythm Thief" (the video is an edit)

And then it turns out that this track is no outlier; pretty much the whole record consists of Russell repeating the same phrases over an orchestral backing track.  "My Baby's Taking Me Home" takes this to extremes, repeating the title dozens upon dozens of times and using no other words other than a short spoken‐word piece—​and yet it works!  I can't agree with critics who called Lil' Beethoven a masterpiece — the songs are generally too long, and some of those in the first half aren't particularly interesting.  The same sort of thing can be said about Sparks' other albums of the 2000s: they're uneven, often quite flabby… but studded with gems.  On this one, take "Ugly Guys with Beautiful Girls", one of my favorites in the Sparks catalogue.  It's—​wait, you know what?  I don't want to spoil it, any more than I'd want to spoil its spiritual cousin, R.E.M.'s "Leave".  Just make sure you listen at least up to the 45‐second mark.

Like I said in the introduction, I find this constant reinvention really fascinating.  It is something that this band has gathered a new following on five occasions: Britain in 1974, France in 1980, the U.S. in 1982‐3, Germany in 1994, and with Lil' Beethoven in 2002, the Internet.  When I first mentioned that I'd started listening to Sparks, people online messaged and tweeted me about them, and this was the record they mentioned.  How many bands can say they won a new generation of fans with their nineteenth album?

While I'm here, I want to say something about the concluding track, "Suburban Homeboy".  It's one of the better songs on the album.  Yet the lyrics ("I am a suburban homeboy and I say 'Yo, dogg' to my pool‐cleaning guy") aren't exactly groundbreaking comedy.  They're pretty standard Weird Al fare.  Frickin' P.D.Q. Bach had done something pretty similar over a decade earlier.  (Ugh.)  But there's a key difference.  See, Weird Al and P.D.Q. Bach and other Dr. Demento regulars are careful to enunciate, because the jokes are the whole point of the song.  Russell Mael doesn't.  As with the songs on Kimono, the words are just about impossible to make out without a lyric sheet.  But it doesn't matter.  The strength of the song lies in the catchy melody and instrumentation.  That's what makes it good despite the fact that the central joke is pretty tired.  When I first said that I'd be doing a Sparks writeup, I got a few replies from people saying that they were looking forward to reading what I thought of this theme and that theme, and I'm afraid the answer was that I didn't think much of anything because I don't pay much attention to lyrics.  What I have trapped in my head after listening to these songs, or any songs, is basically, "La, la da da‐da da DA da, la da da da‐da dah dee dah, la da dee dee dah…"  (Or "My baby's taking me home, my baby's taking me home, my baby's taking me home…")

Album score: 22
Rank among Sparks albums: # 6
"Dick Around"
(the video is an edit)

"Perfume"
(the video is an edit)

Hello Young Lovers,

2006


genre: chamber pop/rock

Another winner, as Sparks took the guitars that had come as a surprise on "Ugly Guys with Beautiful Girls" and applied them more liberally to their second chamber pop effort.  The first track, "Dick Around", is basically a complete rock opera compressed into six and a half minutes… yet much as I love it, I'm partial to the edit that appears in the video, which cuts out some of the slower sections and goes straight for the rock.  And to watch those rock sections—​Dean Menta and Steve McDonald shredding on guitar and bass, Ron Mael and '00s Sparks drummer Tammy Glover pounding away at their respective instruments, Russell plowing through the lyrics in inimitable fashion… man, why don't they write more songs in which they just rock out?  For it is awesome when they do.

That said, even the less rock‐oriented songs on this record are quite good… but again, the album as a whole would jump up these rankings if only the radio edits had been used (and if those songs without radio edits had received them).  This is probably the best example in the Sparks catalogue of the phenomenon I mentioned earlier: it's a collection of great ideas for two‐minute songs that have been stretched out to five minutes or more.

Album score: 16
Rank among Sparks albums: # 7
"Lighten Up, Morrissey"
(the video is an edit)

"Good Morning"

Exotic Creatures of the Deep,

2008


genre: chamber pop/rock

This is a pretty solid album all the way through, though as with its '00s predecessors, it's a bit flabby; even the best songs tend to be one musical idea repeated for over four minutes when two would have sufficed.  The highlights are "Lighten Up, Morrissey", about a guy who's frustrated because he's dating a Morrissey fangirl who thinks that the singer doesn't measure up to her icon, and "Good Morning", sung entirely in the falsetto that Russell somehow can summon even at age 60+.

Album score: 14
Rank among Sparks albums: # 9
"Mr. Bergman, How Are You?"

The Seduction of Ingmar Bergman,

2009


genre: radio musical

This was the album that wrapped up the 2011 edition of this article, and it was a downbeat coda, because this is Sparks' worst album of new material.  Sparks had been contacted by Sweden's national radio network, which wanted to commission a musical from them; they had free rein, with one stipulation: the result had to have something to do with Sweden.  The Maels, both of whom had studied film back at UCLA, selected Ingmar Bergman as their subject, setting forth a tale of the dour director being courted by Hollywood.

Pete Townshend always said of his rock operas that anyone could write the opera part, but the trick was writing the rock songs to go with it.  The Seduction of Ingmar Bergman barely has any songs at all; it's mostly shapeless film‐score music with some vocals on top, some sung, some spoken.  Half the vocals are in Swedish.  Russell Mael barely appears.  His one big song is the highlight of the album, so naturally that's what I've attached.  Don't get your hopes up; it's not characteristic.  (That said, the eye‐poppingly low album score is overstated: because of the way these album scores are calculated, having a bunch of very short boring tracks, like Seduction does, hurts more than having a few long ones.)

Album score: -27
Rank among Sparks albums: # 23
"Two Hands One Mouth"

Two Hands One Mouth,

2013


genre: unplugged

This was the first Sparks album to come out after I posted the first edition of this article: a set of recordings from their Two Hands One Mouth concert tour.  The idea behind the tour, as the title suggests, was to perform a bunch of their back catalogue without a band, just Russell on vocals with Ron on keyboards.  I was disappointed, but it made sense: the Maels were now pushing seventy and it was logical that if they were going to keep performing they'd downshift into that "Eric Clapton playing 'Layla' half‐speed on an acoustic guitar" mode.  So, another N/A because this isn't new material (except for the one song linked alongside this paragraph), but if I were going to rank this one, it'd be #25.

Rank among Sparks albums: N/A
"Johnny Delusional"

"Call Girl"

"So Many Bridges" (Sparks‐only demo)

"Collaborations Don't Work"

"Things I Won't Get"

"Look at Me"

FFS,

2015


genre: art rock

And then just as I'd concluded that Sparks would spend the rest of their career doing dentist's‐office versions of their old songs, they teamed up with a rock band, Franz Ferdinand, and made the best album they'd ever released.  Gadzooks!  The first edition of this article called Lil' Beethoven and its two follow‐ups a revival for Sparks, but in all honesty, what that meant was that those albums are listenable all the way through and have at least a couple of really good songs apiece.  For this one, I was able to find half a dozen songs that seemed worth linking up—​and you gotta watch the first video ("Johnny Delusional") at the very least, for it is awesome.  Of course, in saying this, I couldn't help but wonder, does this mean that Sparks suddenly found yet another gear in the mid‐2010s, or does it just mean that I like Franz Ferdinand and didn't know it?  That's hard to answer, but I can say that this certainly sounds like a late‐period Sparks record: the lyrics are indistinguishable from the rest of their work, the genre‐hopping within the album is distinctive, and there's even one of their seven‐minute suites lurking at the end in "Collaborations Don't Work".  So, yeah, FFS feels like Sparks with a kickin' new backing band and not some altogether new entity.  Still, it felt weird to list this as my new #1 Sparks record.  But to my shock, I wouldn't have to.

Album score: 33
Rank among Sparks albums: # 2
"So Tell Me Mrs. Lincoln Aside from That How Was the Play?"

"Edith Piaf (Said It Better Than Me)"

"Giddy Giddy"

"Unaware"

"Hippopotamus"

Hippopotamus,

2017


genre: eclectic pop/rock

This is the best Sparks album.  Think about that.  Sparks' first album, Halfnelson, came out in 1971.  Imagine that you're in a band that just put out its first album this year.  Now imagine learning that your band's best album will come out in the year 2063.  That's what Sparks has achieved with Hippopotamus.

Maybe it's a matter of having waited so long to put out a proper Sparks album; if you put the best fifteen songs from their three albums during the Dubya administration together, it actually beats this one out.  But instead they spread those songs out over three albums that were larded with filler.  Hippopotamus has the least filler of any Sparks album since No. 1 in Heaven.  It is great song after great song.  There is quite a bit of genre‐hopping on this record, from the drum‐and‐bass of "Giddy Giddy" to the Bowie‐esque "Unaware" to the accordion‐heavy "When You're a French Director" to the title track, which is Sparks' answer to "Yellow Submarine"—​but unlike Indiscreet, which frequently wandered off into the land of the unlistenable, Hippopotamus stays within the broad confines of pop/rock, with the exception of the straight‐ahead opera of "Life with the Macbeths".  And while many reviews have chuckled at the length of the title of the song "So Tell Me Mrs. Lincoln Aside from That How Was the Play?", few have pointed out that it's a rocker with a killer hook that makes it Sparks' best song other than "Let's Go Surfing".

And while I noted in my Lil' Beethoven writeup that I don't really care about lyrics, I have found that the lyrics to this album are not only among Sparks' funniest, but have actually struck a number of chords with me in the short time it's been out as of this writing.  Whether it's the character in "Edith Piaf" regretting the lack of regrets in his life, or that in "Unaware" envying a baby for not yet being cognizant of having been born into a world of bullshit ("Taylor Swift has something new / Nike has a brand‐new shoe / Read your heartrate anywhere / She don't know, she don't care / She's unaware"), I found myself nodding appreciatively as well as playing air drums along with the songs.  So, yeah.  I ended the 2011 edition of this article wishing that I could end on an upbeat note.  Now I can, thanks to a septuagenarian and his little brother twice topping every album that made up the previous list.

Album score: 41
Rank among Sparks albums: # 1
And there you have it—​the saga of one of the greatest bands of the last half century, on the same tier as the Beatles and the Who in quality, and with a rich and varied history surpassing that of those legendary acts… and of whom I'd somehow never heard until just now just before writing the first edition of this article.  So who else has flown beneath my radar for all this time?